"NO HECKLING THIS JEKYLL"
The Charlotte Leader, June 27th, 2002

Critical the the tale of Jekyll and Hyde, obviously, is the efficacy of the lead's dual role. The Actor has to possess just the right amount of charm and be fetchingly cavalier enough to engage us as Dr. Jekyll and, at the same time, scare the bejeesus out of us--not to mention convince us--as Mr. Hyde, with his throaty growl (emanating from somewhere beneath and oily, rumpled mass of hair) and pungent disdain for human life. Jared Bradshaw (a magnetic Don Lockwood in last season's Singin' in the Rain) prevails on all counts.
The production, in fact, seemed to have the acting and vocal elements polished...Bradshaw's impressive chops soared above the melodies. When he sings one of the show's most powerful numbers, "Confrontation", in which his opposing personalities collide, his arresting acting and vocal range is apparent."
-By Allison West-Suyao

CENTRAL PIEDMONT SCORES A HIT WITH THE THEATRE PRODUCTION "JEKYLL AND HYDE"...

"Cast, Orchestra, costumes shine in classy Central Piedmont production..."
"Jared Bradshaw is captivating as Dr. Jekyll and Mr. Hyde, using his magnificent mane, a slouch and a rasp to differentiate between the two. His angst is convincing, and his voice could make Scrooge smile. For all Jekyll's earnest handsomeness, Bradshaw's campy portrayal of the predatory Hyde is the more appealing of the two."
-By Lynn Trenning
THE CHARLOTTE OBSERVER, June 21, 2002

"Bradshaw has the cocky swagger of a handsome, young inventive doctor, yet he's able to chameleonically and creepily transform himself into the sinister Hyde, a disarming figure who looks like a Gothic rock star--or Ex-GNR axman Slash."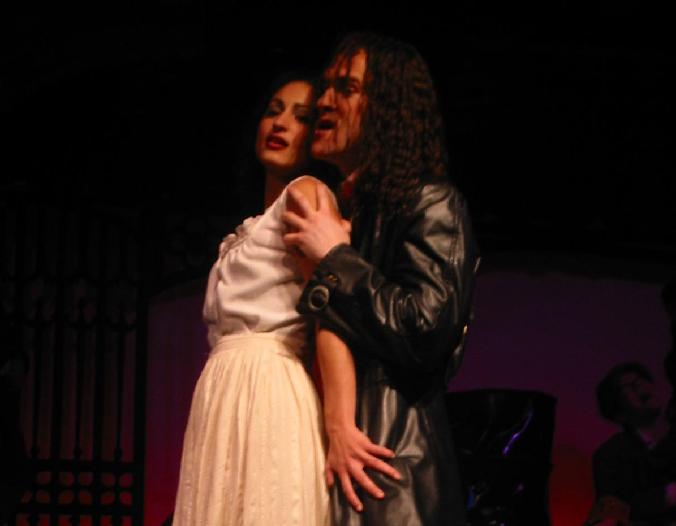 Connie Renda and Jared Bradshaw as Lucy and Edward Hyde; "It's a Dangerous Game"
Greg Glover as Utterson, Jared Bradshaw as Dr. Henry Jekyll
Jared Bradshaw and Emily Stello as Emma Carew
The wedding from Hell, aka "I married a monster"
"Sympathy....Tenderness..." (never date a guy with longer hair than you)
Just say no to drugs.
The Full Company
It's not every day you get two leading ladies....Emily and Connie after the show